Looking for Insight Innovation at IIeX?
Meet us at IIeX Atlanta on June 10th - 13th!
Indeemo's Mobile Ethnography App and Qualitative Research Platform make it easy for Agencies & Brands to capture contextual, in-the-moment behaviours and insights that help them better understand their customers.
Our Mobile Ethnography platform puts you at the intersection of your Customer, their Context and the Moments in which they interact with your product, service or experience.
Looking for an agile insights platform to support your Innovation Journey?
We provide Researchers, Designers, Insights Teams and Brands with an agile research platform that supports them at every phase of their Innovation Journey.
After supporting hundreds of projects, we have identified 8 phases of this Innovation Journey where Mobile Ethnography can deliver impactful results.
Platform functionality
Our intuitive Mobile Ethnography Apps and simple to use Researcher Dashboard offer the following benefits: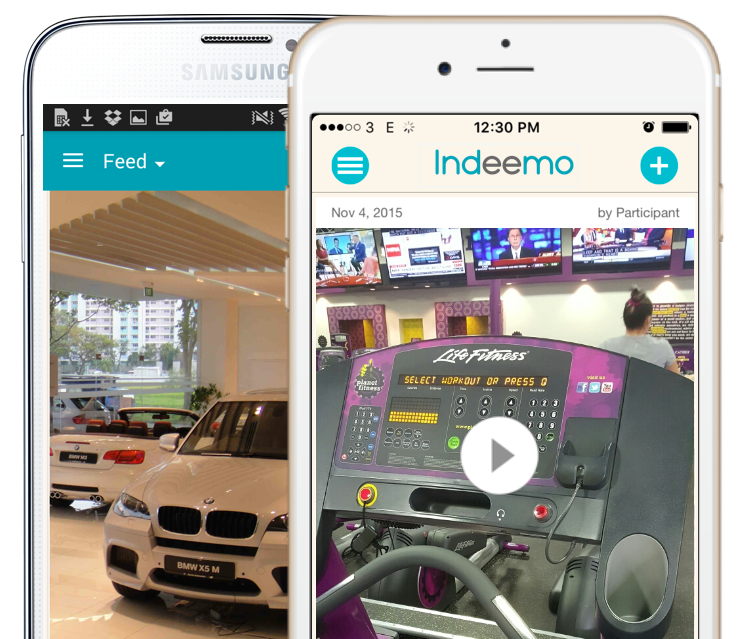 Mobile Ethnography apps
Our iPhone and Android apps are as familiar as Facebook and fun to use.

Flexible tasking options support a wide array of Research projects.

Ideal for international research, projects can be set up in any language.

Respondents post in-the-moment videos, screen recordings, photos and notes.

Engage respondents in-the-moment with Facebook style comments and push notifications.
Intuitive Insights Dashboard
Seamlessly aggregate and moderate uploads from Respondents.

Easily track Respondent activity and maximise engagement with Push Notifications.

Automated video transcription and analysis tools save you time analysing data.
What our clients say about us
"The first time we worked with Indeemo, we thought they were too good to be true. The platform is incredibly smooth and more advanced than anything we've used before, and the Indeemo team is amazing, attentive, and helpful to work with. We've been working with them for a while now, and they continue to wow us — and our end clients — every single time."
Jessica, Good Run Research
"We are huge fans of Indeemo. The tools is fantastic, simple and easy for us to moderate and analyse data. The App is elegant and engaging for respondents who time and again give us amazing insights and let us see the world from their perspective. The outputs continue to delight and surprise our clients. The team at Indeemo could not be more helpful, responsive and supportive – truly research partners with the shared aim to achieve the very best outcomes for us and our clients."
Matt, Atticus Research
"Indeemo is a great platform which is easy for both participant and moderator to navigate. The assistance and service provided by the Indeemo team ensures projects run efficiently and smoothly. They are always happy to help and no request is too much for them"
Sunam, Trinity McQueen
Talk to us at IIeX North America 2018
Indeemo has been used in both B2B and B2C projects by respondents aged 8 to 80.
Projects can be single location or multi country and durations range from hours to months.
If you'd like to learn more about how we can support your Research projects, please drop by at IIeX.
It would be a pleasure to meet you and share some case studies.